As an intermittent fasting coach, I've read my fair share of intermittent fasting books. In fact, reading books about intermittent fasting was what first got me interested in trying intermittent fasting myself. It's also part of what inspired me to become a coach. 
You see, I'm the type of person who loves to learn. When I'm interested in a subject, I go all-in, soaking up as much information as possible. So, at the beginning of my IF journey, I read all the books on intermittent fasting I could get my hands on! I couldn't get enough information. 
And when I started getting results, my friends and family wanted me to teach them everything I had learned. I tried to recommend the intermittent fasting books I had read, but I learned pretty quickly that not everyone loves reading as much as I do. 
It was through teaching my friends and family what I'd learned that I realized I had a passion for intermittent fasting coaching. It's so wild how everything works out! For me, it really shows how powerful books can be. 
Since intermittent fasting books have played such a huge role in my journey, I wanted to take some time to share some of the best books on intermittent fasting I've found. That way, if you like to learn by reading, you'll know where to start!
The 7 Best Intermittent Fasting Books
Here are some of the most insightful and best books on intermittent fasting – in no particular order!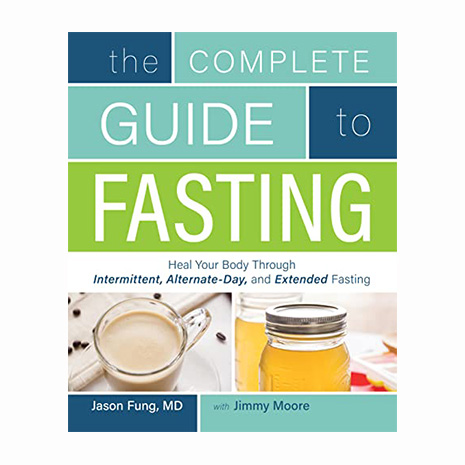 "The Complete Guide to Fasting: Heal Your Body Through Intermittent, Alternate-Day, and Extended Fasting" by Jason Fung 
Dr. Jason Fung is my all-time favorite intermittent fasting expert. His information and advice have helped pave the way for the field to grow. In this book, you get an in-depth look at the effects of fasting on your health, who can benefit from fasting, the history of fasting, and tons of tips along the way. It's a great entry point to intermittent fasting for people just getting started with intermittent fasting.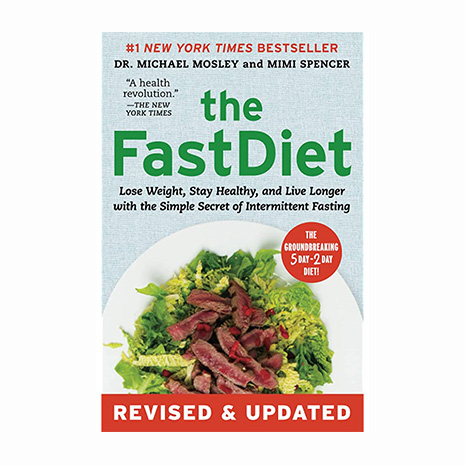 "The Fast Diet: Lose Weight, Stay Healthy, and Live Longer with the Simple Secret of Intermittent Fasting" by Dr. Michael Mosley and Mimi Spencer
If you're interested in fasting to lose weight, this book could be just what you need to jumpstart your journey. In this book, authors Dr. Michael Mosley and Mimi Spencer explain how intermittent fasting can help you lose weight, stay healthy, and live longer. They discuss the science behind intermittent fasting and how it works. They also offer advice about incorporating fasting into your life, what to eat during a fast, and how to create a sustainable routine. They even include 40 different recipes!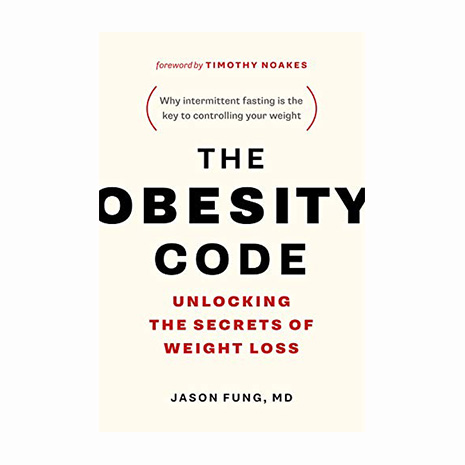 "The Obesity Code: Unlocking the Secrets of Weight Loss" by Dr. Jason Fung 
This book was the first book by Dr. Jason Fung. It was revolutionary when it came out because it was the first book to outline the effects of insulin and insulin resistance on weight loss. In it, he shares tons of scientific insights on nutrition and five steps to improving your health with intermittent fasting. It's an outstanding read for people who hope to improve insulin sensitivity and lose weight with intermittent fasting.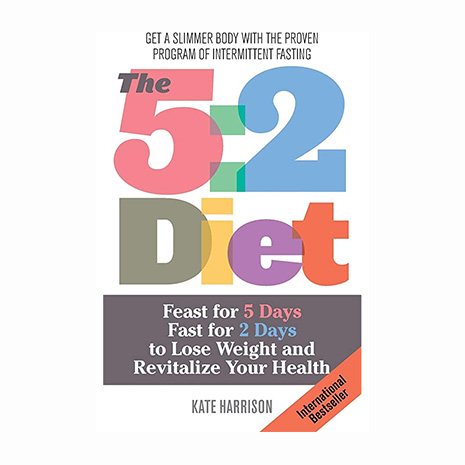 "The 5:2 Diet Book: Feast for 5 Days, Fast for 2 Days to Lose Weight and Revitalize Your Health" by Dr. Kate Harrison 
This book is full of delicious recipes and meal plans to get you started on intermittent fasting. What's great about this one is that Dr. Kate Harrison shares testimonials from regular people talking about how intermittent fasting has helped them lose weight, shed fat, and increase their energy. The only downside to this book is that it only talks about the 5/2 fasting schedule and doesn't examine any others.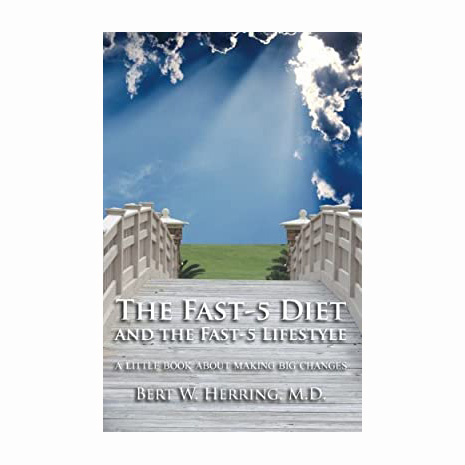 "The Fast-5 Diet and the Fast-5 Lifestyle: A Little Book About Making Big Changes" by Bert Herring 
If you're looking for quick and easy books about intermittent fasting, this is a great one to consider. This tiny book packs a lot of information into its 64 pages. It gives you some basic information and easy-to-start guidelines for losing weight and developing a healthier lifestyle through intermittent fasting. It also explains the rule of eating within five consecutive hours.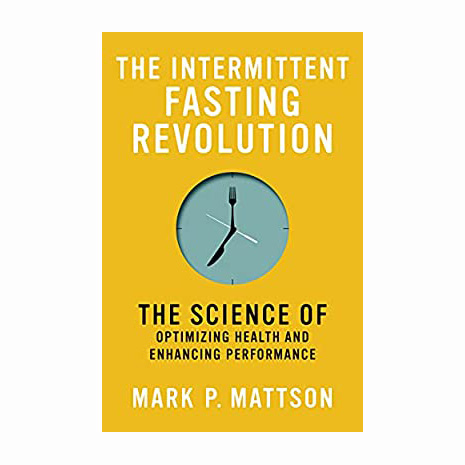 "The Intermittent Fasting Revolution: The Science of Optimizing Health and Enhancing Performance" by Mark Mattson
Written by neuroscientist Mark P. Mattson, this book is packed with studies and experiments. It covers the benefits of intermittent fasting for obesity, diabetes, heart disease, cancer, and others. It's full of incredible information about the science of intermittent fasting. But be aware that it's not exactly light reading. The information can be super dense, so you have to truly want to understand the science behind IF if you intend to read this book. It also isn't a "how-to" guide, so you won't get any tips from this one. However, this is still one of the best intermittent fasting books because of the sheer amount of extraordinary science!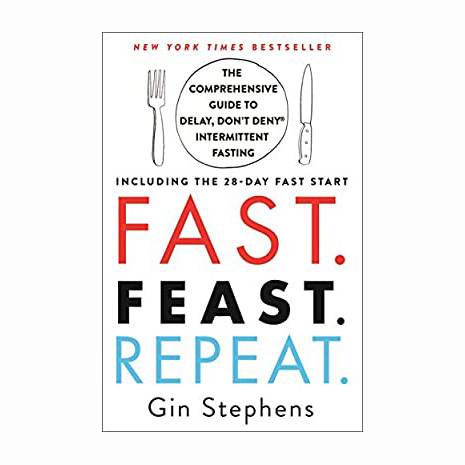 "Fast. Feast. Repeat. The Comprehensive Guide to Delay, Don't Deny® Intermittent Fasting–Including the 28-Day FAST Start" by Gin Stephens
This New York Times Best Selling book was written by Gin Stephens, who lost over 80 pounds with an intermittent fasting lifestyle. In this book, Gin teaches you how to work intermittent fasting into your schedule and shares some of the science behind intermittent fasting. The book also includes a 28-day fasting guide to help you get started on the right foot. (Quick note: this book is very much a self-help book, written to motivate and inspire you to get started with intermittent fasting. As a result, if you're not into self-help books, you may want to skip this one.)
Fasting Books for French Readers
As a French native, I also have some fasting books for any French readers out there. Here are my three favorite fasting books written in French. They each offer something totally unique and worth your time if you speak the language!
Ma bible du jeûne: Le guide complet by Thierry Thomas and Dr Sarah Merran
This beautifully written book is a wonderful source for different fasting protocols, tools, and studies. It offers premium guidance for you to explore every type of fasting protocol known to fasting experts, everywhere.
L'art de jeûner: manuel du jeune thérapeuthique Buchinger by Françoise Wilhelmi De Toledo
Françoise Wilhelmi De Toledo offers a ton of valuable advice and guidance, including sections on the fasting pillars, fasting and cancer, and even some tasty recipes. To this day, Toledo has produced the world's largest study on the effects of fasting, conducted in the famous Buchinger-Wilhelmi Clinic in Switzerland, which established that fasting has been a significant healing medium for over 100 years.
Le jeûne – Une voie royale pour la santé du corps et de l'esprit by Alain Huot with Daniel Kieffer
This treasure covers the history of fasting, the benefits of fasting, tips to ensure good practices, and advice on what you should do after fasting. It's one of my absolute favorite reads on the subject and offers French readers a distinct look into the world of fasting.
Don't Have Time to Read Books About Intermittent Fasting?
I hope you feel inspired to pick up one of these intermittent fasting books. It might just change your life – like it did mine! 
But if reading intermittent fasting books overwhelms you, or if you don't have the time to read all these books but still want to learn about intermittent fasting – I'd love to help. As an intermittent fasting coach, I use all the knowledge and experience I've gained to teach you the information and skills you need to make intermittent fasting work for you. 
I believe everyone's intermittent fasting plan should be as unique as they are. So, I combine my years of hands-on experience, reading, and learning to help you reach all your health and wellness goals. 
Want to learn more? Click here to schedule your totally-free intermittent fasting consultation today.